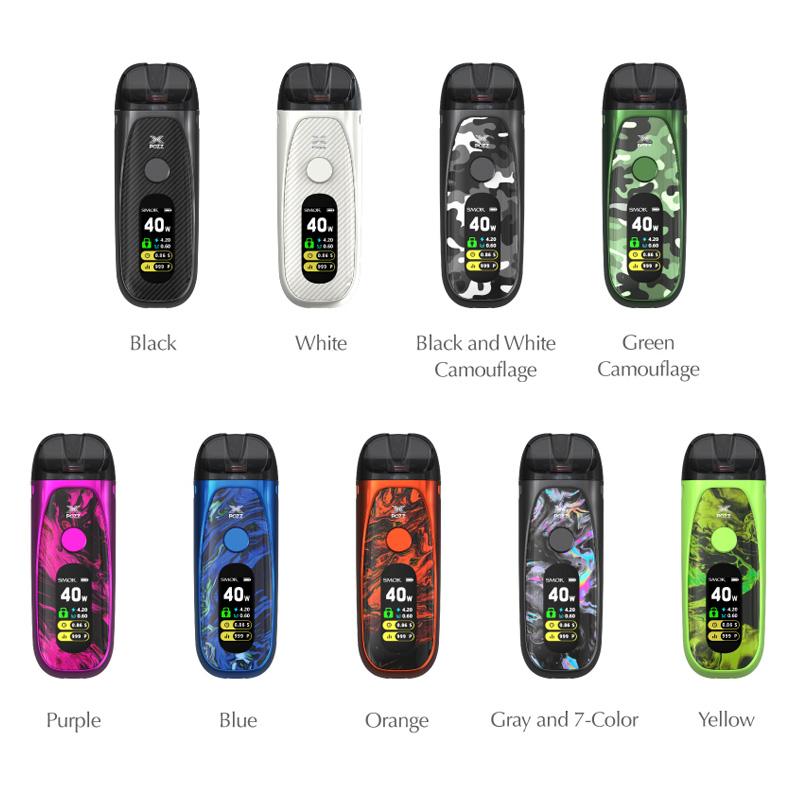 The POZZ X AIO is a stylish new pod vape mod from one of the industry's oldest and prolific manufacturers, SMOK.
The POZZ X promises to be an easy to use, hassle free vape device and I think SMOK may have pulled it off.
It has a robust 1400 mah battery, replaceable coils, adjustable airflow, all in a stylish, petite package.
The pod vape market is highly competitive these days with most every manufacturer vying to sway vapers into their fold. Will the SMOK POZZ X AIO sway you with it's style and features? Let's see…
PRICE (US): ~ $17.99 available at VaporDNA
PRICE (UK): ~ £24.99 available at UK ECIG STORE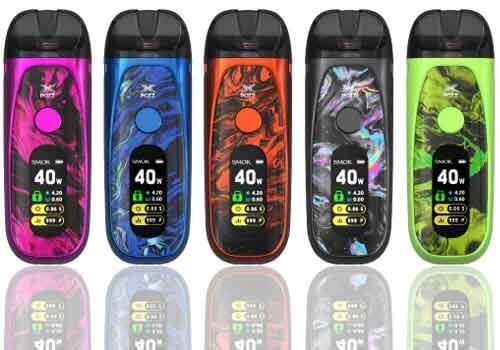 SMOK POZZ X SPECS
Size 97.3 x 33.6 x 22mm (Height Width Depth)
Weight 97G
Output Power 5W – 40W
Battery Capacity 1400mah
Input Voltage 3.3V – 4.2V
Output Voltage 1V – 4V
Resistance range 0.3ohm – 2.5ohm
SMOK POZZ X CONTENTS
Pozz X Device (1400mah)
Pozz X RPM Pod (RPM Mesh 0.4ohm coil pre installed – 4.5ml)
RPM Triple coil 0.6ohm
USB cable
User manual
PACKAGING & DESIGN
The POZZ X comes in nine colors with varying designs.
There is a camo design, a carbon fiber skin in black or white, and resin options in gray, 7-color, yellow, orange, purple, and blue. Each design looks good, and you should have no trouble finding one that fits your particular taste.
On the front of the device is the lone button that acts as a fire button and is also used to navigate its settings. The elongated display screen is situated just below the fire button.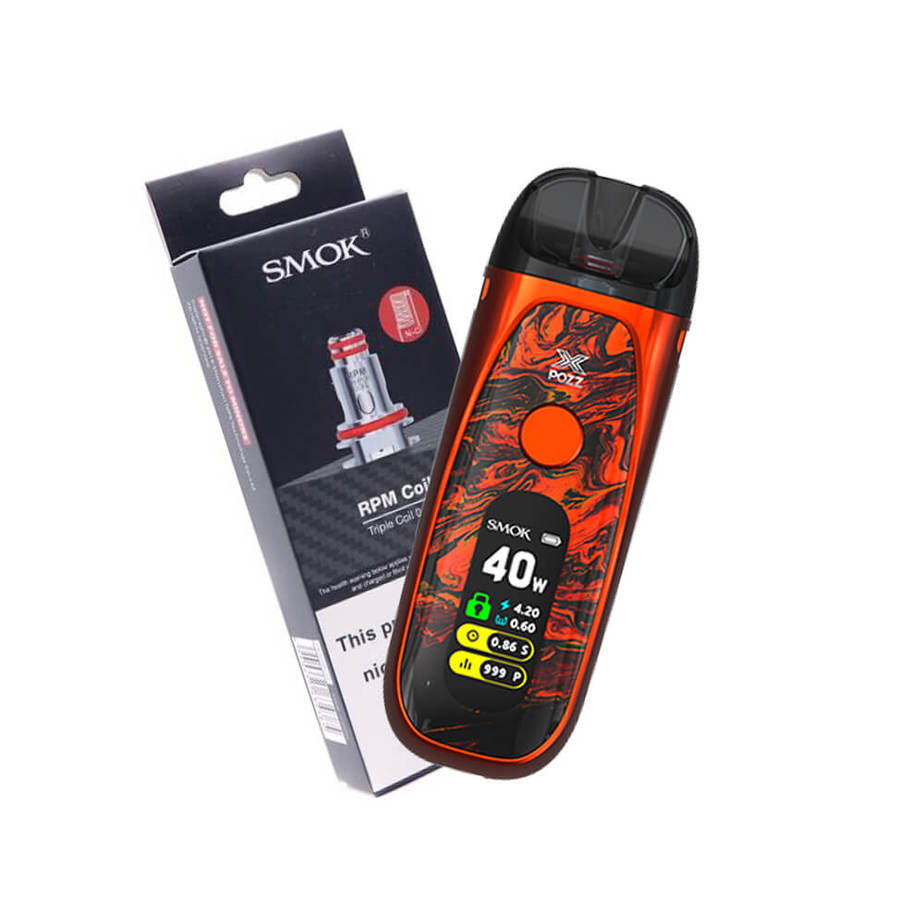 There are air holes on both sides of the device, and the micro USB charging port is at the bottom.
The overall design and shape of the POZZ X is similar to most other pods on the market. While it does not particularly stand out in a crowd, it does feel great in the hand and is a pleasure to hold form an ergonomic point of view.
The POZZ X AIO comes in a standard black box, and inside you get the POZZ X mod, a POZZ X pod with pr-installed 0.4 ohm coil, an extra 0.6 ohm coil, a USB cable, and a user manual.
FUNCTIONALITY
For its size, it's nice to see that SMOK has included a coloured screen that displays the usual information you might find in other larger mods.
You have the power output, a battery level indictor, the coil resistance, the output voltage, a puff counter, a puff timer, a device lock/unlock graphic, and the SMOK logo.
SMOK has designed the POZZ X with simplicity in mind. This is reminiscent of the pop in RPM coils and the simple-to-use airflow control.
With just the one button, you can turn the unit on and off with five clicks, while another 5 clicks in standby mode bring you to the menu.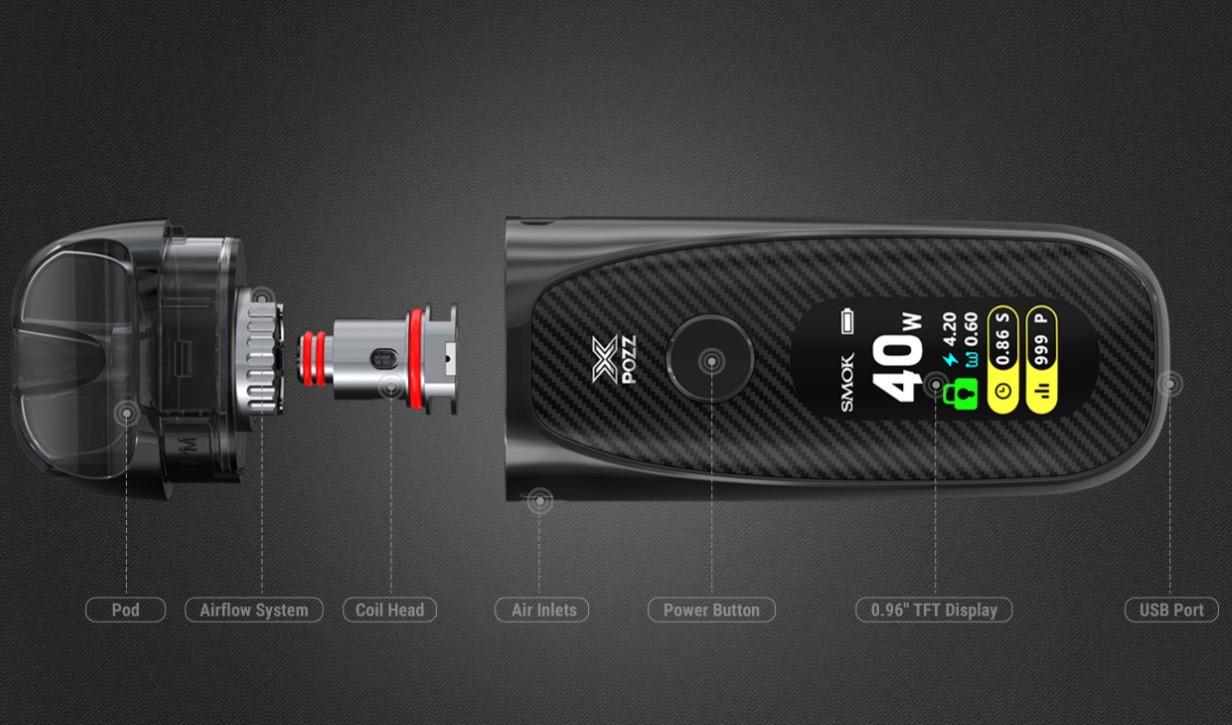 Pressing the top or bottom ends of the button will let you navigate the menu, and holding it will select the mode you wish to choose.
In standby mode, pressing the button 3 times will allow you to adjust the power by using the top and bottom ends to set the wattage.
Leaving the device untouched for a couple of seconds will set the selected power.
Oddly enough, you can only adjust the power up, resetting back to 5 watts when you exceed the max 40 watts.
SMOK should have used the up and down potential of the fire button for a better user experience.
BATTERY
The POZZ X is powered by a healthy 1400 mah internal battery.
This puts the device in the upper tier when it comes to battery life since most other pod vapes offer much lower capacity batts.
Depending on how heavy you vape, you can expect the POZZ X to last you the whole day, or at least til you get home from work.
If you're working from home as many of us are now-a-days then you shouldn't have a problem since you'll be able to charge it whilst not in use.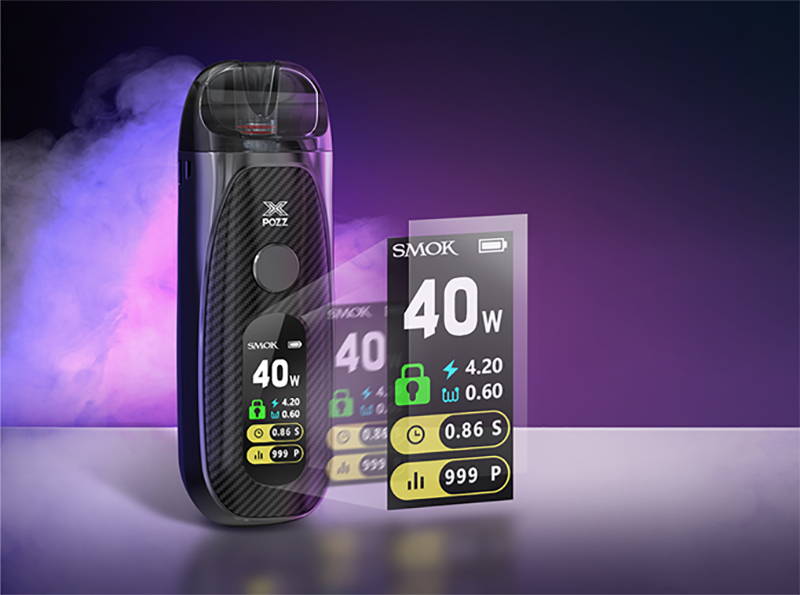 The POZZ X does have fast charging (taking about an hour from an empty battery to full a full charge).
Even better it allows passthrough charging so that you to vape while it's plugged in. Perfect if you ever forget to check your battery level and run out of battery.
PODS / COILS
As with any pod vape, the pod itself makes or break the device.
The POZZ X pod doesn't break any molds in terms of design, but it does fit seamlessly with the profile of the device itself using a single push to pop it in instead of twisting or screwing it in.
Its mouthpiece curves down to the connector, where the fill hole is located. Underneath the pod is where you also swap coils. What's neat about the POZZ X pod is that coils easily snap into place with a little push.
As mentioned, no screwing on or dismantling required. The two coils included in the kit include a 0.4 ohm coil and a 0.6 ohm coil.
To the side of the coil receptacle is the air flow control.
You can adjust air flow by simply rotating the knurled sections to loosen or tighten the draw.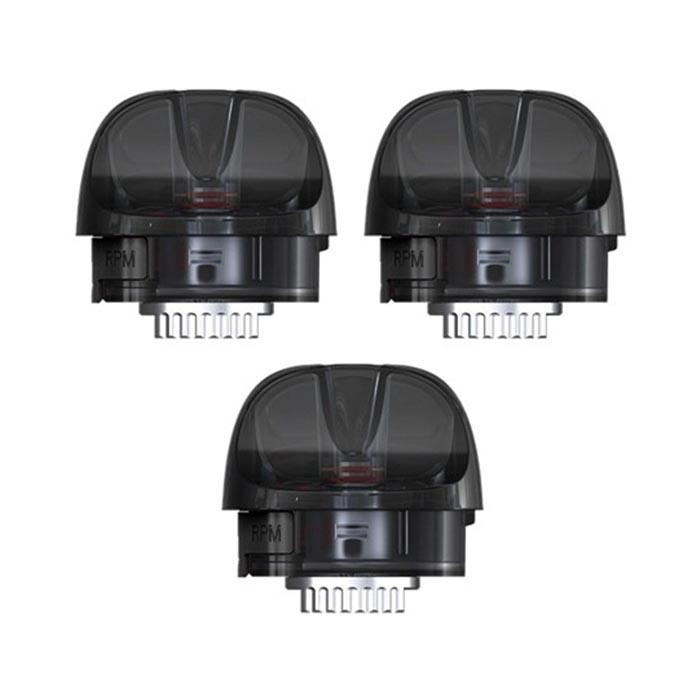 The POZZ X's fully open air flow is suited more for lung inhale vapers since the tightest the air hole could go is more restricted lung hits than mouth to lung.
You can still do mouth to lung, but it isn't as tight as you would expect from what is predominantly meant to me a subtle MTL device.
Refilling the pod is simple too, you simply pull out the pod from the device (which can be fiddly though), lift the rubber stopper on the side to reveal the fill hole, fill with your favorite ejuice, and replace.
As usual, after filling, wait for about 5 minutes before taking your first puff to allow the ejuice to saturate the wick and coils properly.
PERFORMANCE
No matter how good a pod's battery performs, the pod and coil determine whether a device is good or not.
The 0.4 ohm coil of the POZZ X  performs beautifully, giving you a smooth and flavourful vape with each puff.
It's not the quietest of vapes, but the performance makes up for it in spades. It is best used at 25 watts with a wide open air flow. No doubt, this coil suited for lung inhalers.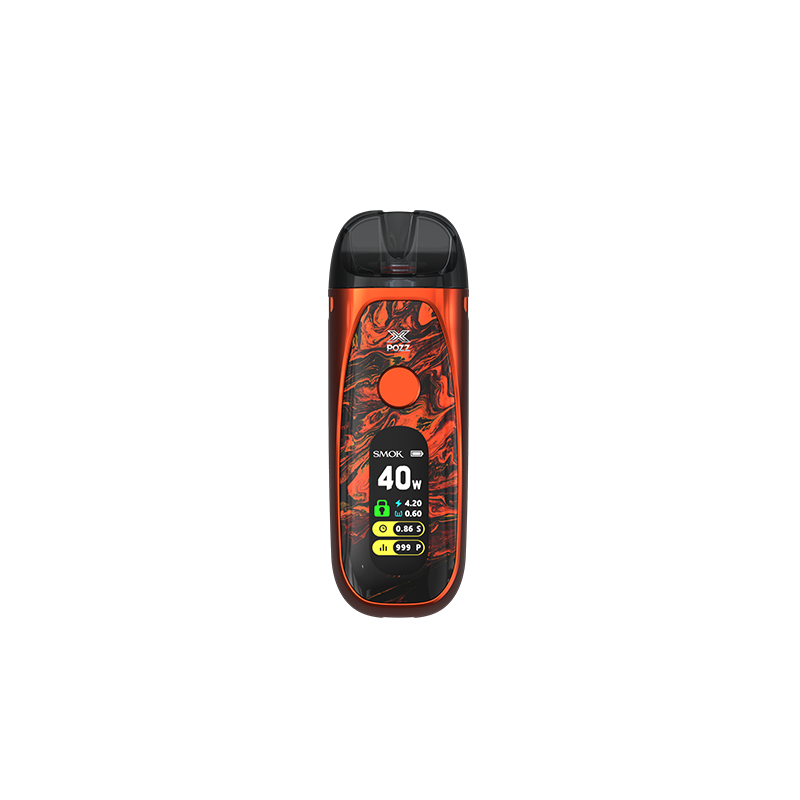 The 0.6 ohm coil is less than stellar. Wide open it seemed to have a much tighter draw, and though cloud density is more or less equal, flavor suffered a bit.
If the air flow ring allowed for a tighter draw to make it a true MTL, I have no doubt flavor would be improved. As it is, the POZZ X would satisfy cloud chasers more than MTL vapers.
The only true downside with the coils however, is that thinner eliquids would leak occasionally.  As long as you use ejuices with higher VG content though, you'll be fine.
HOW MUCH DOES THE POZZ X COST?
The SMOK POZZ X AIO costs about £24.99 via the UK ECIG STORE in the UK, while US customers can find it for about $17.99 at VaporDNA.
For the price, I'd say the POZZ X is worth it. The design may not be groundbreaking but for the ease of use and performance, the cost of admission is well worth it, especially since it is backed the SMOK name.
DISLIKES
Uninspired design
Pod can be tricky to remove from device
True up and down functionality in button would have been great
MTL could be better
Leaks with thinner eliquids
LIKES
Portable design
Colored screen
Easy to use
2 Amp Fast charging
Robust 1400 mah battery
Great for lung vaping
Adjustable power up to 40 watts
Adjustable air flow
Easy coil replacement
CONCLUSION
There are many pod vapes around that offer similar features at similar prices.
Though if given the choice, you should probably go for the ones made by established manufacturers. SMOK has been in the business long enough to know how to put a well-made device, and the POZZ X AIO is one of them.
If you're not as concerned about the brand, the POZZ X should still be on your short list because you get great performance in an easy to use, portable device.
The coils included may not be equal in performance, but you can easily purchase more of the better performing less expensive compatible pods.
Despite its flaws, the device is a solid purchase all around. Though if you're looking for a true MTL vape, you may want to consider another device.