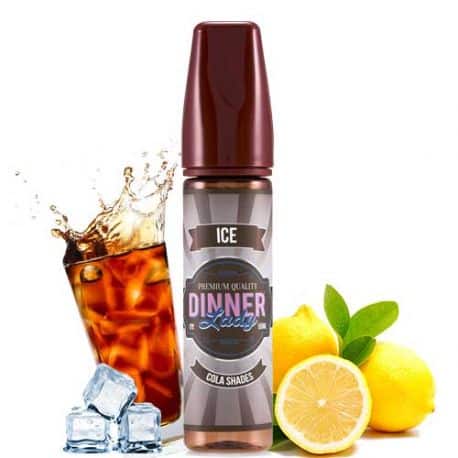 INTRO
Cola Cola Cola….pretty much all of us love or can reminisce with the taste of it!
Whether it's drinking cola, eating cola gummies, we've all been a fan of them at some point in our lives if not still already.
Today I'll be writing a review about Dinner Lady's Cola Shades. How does the juice taste? Is it a replica of the popular coca cola? Or is it just another subpar cola flavour that tries hard to match what we've all loved and enjoyed most our lives.
For full transparency, no affiliate links will be used in this review and this is not a paid review. The e-liquid was purchased by me, Carlos to try and for the purpose of writing this review.
All feedback is based on the reviewers experience with this product, some of which will be subjective since we all have our own opinion when it comes to flavour profiling and having our own preferred tastes.
Now that we've got that out of the way, let's see how good or bad Cola Shades is based on my experience…
DOES IT TASTE LIKE COLA?
If you're not a cola drinker, but love the taste, then you're in for a treat with Dinner Lady Cola Shades – because that's exactly what you're getting.
True cola flavours that for me, aren't too sweet in this juice, vaping with a 50ml of Cola Shades Short-Fill bottle and added 10ml of 20mg flavour-less nic-salt, which makes it around 60ml of e-Liquid at approximately 3mg.
I've tried several 'cola' juices in my time, and most of them have been good. My favourite one I vaped about 2 years ago was by a company called Premium Labs based in Canada.
I stopped buying their cola range because it became too expensive to keep getting it delivered to the UK (where I'm based).
While their range has changed since I used to buy from them (I'm not sure if they even offer a cola falvour anymore), they did produce high quality e-liquid so if you're from US/Canada they may be worth looking into.
And for the record, we have absolutely no affiliation with them (nor is that link above an affiliate link), but they deserve a shout out because I had nothing but good experiences from them in the past.
Anyway, back to the review…
Cola Shades by Dinner Lady is just as good flavour-wise. Not too sweet, nice and fruity and extremely hard to put down.
Better yet, it's better for you than the drink and the sweets / candy since it has no sugar!
I haven't tried this with normal nicotine (flavour-less non-nic-salt) so the flavour may vary here, but based on the experience with the nic-salt at 3mg it tastes just like the gummies and high quality cola.
HOW MUCH DOES COLA SHADES BY DINNER LADY COST?
Cola Shades by Dinner comes as a 30/70 PG to VG ratio in a shortfill bottle so you have space to add nicotine should you wish to.
So how much does Cola Shades by Dinner Lady cost?
At the time of writing this there are two options:
UK
Cost of nicotine can vary depending on the size, whether it's free-base, nic-salt and the mgs. I went for 10ml nic-salt from VapeUK and added it to the 50l short-fill bottle, which only cost £1.00.
USA
At the time of writing this review we have not been able to find a site that sells this e-liquid in the US, which is a shame. We will update this if anything changes!
The quality of juice certainly makes this one worth it, and that deal of being able to either buy two or mix and match 2 bottles for £22.00 is even more appealing.
Postage costs vary from £1.99 to £9.99 depending on how fast you'd like it delivered, but if you are not in a rush and can wait, and spend £30.00 or more you will get 100% free shipping.
Better yet, if you spend £50.00 or more, you'll get next day delivery completely free.
Should you go for the next day delivery option, keep in mind that you'll need to order before 3pm otherwise you may have to wait an extra day.
Also, during the current climate, keep track of Royal Mail's delivery times, which may change due to the challenges they're facing with deliveries during these uncertain times.
WILL I BUY MORE COLA SHADES?
Pretty simple answer for me – yes!
I'm a 'fruity' vaper. I like my sweet (not too sweet) fruity vapes with some exceptions, and I've been vaping this for just under a week and I'm still not sick of it, which is rare. I often get tired of a juice after a few fills and move on, but this is one of the few I can vape all week, let-alone all day.
Admittedly, I still prefer their infamous Lemon Tart, but Cola Shades is up there with one of my fav's from their range.
WHERE CAN I BUY COLA SHADES BY DINNER LADY?
There are various distributors selling cola shades so don't hesitate to have a shop around and see if there are any deals going on, but if you want to buy straight from the source, you can get them from:
I hope you enjoy it as much as I am!