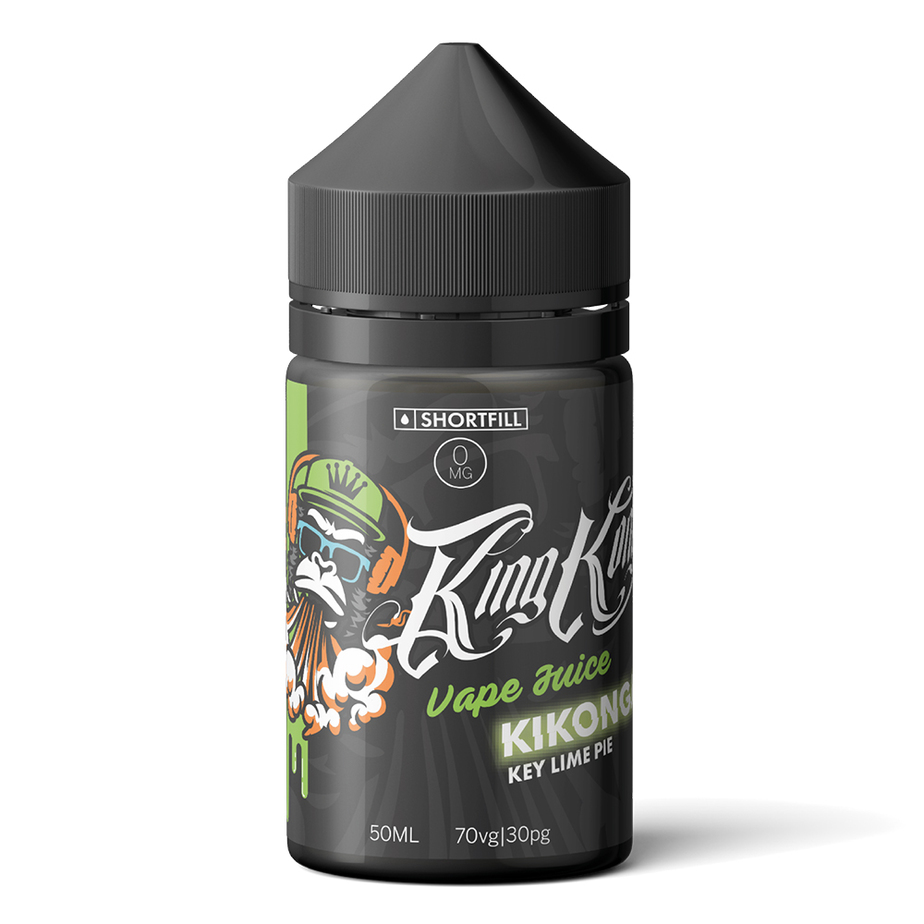 INTRO
KIKONGA is a key lime pie flavoured eliquid by King Kong Vape Juice.
King Kong Vape Juice are fairly new to the scene, founded in 2018, but don't let this put you off the quality of their e-liquids.
Their aim, as quoted from their website, is: 'We set out to produce something different and produce the best, cleanest, and tastiest e-liquid brand for our customers all around the world.'
So this got me thinking, how are they going to produce something better than what we already have?
There are so many different brands out there that have nailed certain flavours. How are they going to improve on the Key Limes already on the market?
Can it even get better?
I decided I was going to try the American desserts range and Kikonga Key Lime Pie was the first of King Kong's e-liquids I decided to vape, which is what we'll be reviewing today.
For full transparency, no affiliate links will be used in this review and this is not a paid review. The e-liquid was sent to us for free for the purpose of review, which we are grateful for.
All feedback is based on the reviewers experience with this product, some of which will be subjective since we all have our own opinion when it comes to flavour profiling and having our own preferred tastes.
So, on that note, lets dig deeper and see what it tastes like!
DOES IT TASTE LIKE KEY LIME PIE?
Being based in the UK, Key Lime pie isn't one of those classic desserts found on the back on a menu at your favourite restaurant; however a good mate of mine grew up in the states and actually made key lime pie one day when I went round for dinner and I was a fan from the first bite.
And yes, I loved the dessert so much that the idea of this flavour in e-liquid form really appealed to me from the get-go!
I was really hoping King Kong Vape Juice would be able to replicate that initial experience I previously had with the actual dessert…
On the inhale (vaping 3mg freebase nicotine) I instantly noticed how smooth this juice was for a 70vg/30pg e-liquid.
The initial flavour was sweet, however their wasn't a strong flavour that replicated the taste…that was until I exhaled!
A burst of juicy lime struck my tongue instantly, still retaining that sweetness.
Some lemon / lime flavoured eliquids don't sit well with me (this is subjective, I know), since most companies have not mastered the flavour combination and it often reminds me of CIF, the lemon scented toilet cleaner… so I was a bit apprehensive on the lime.
Fortunately, this was not like CIF at all, thank goodness!
As the flavour submerged my taste buds in limey goodness, I began to taste that crust, and after all that the undertone flavour of the pie – delicious!
The more I vaped the better it tasted, however the crust flavour I was experiencing was becoming more like a creamy, buttery biscuit base, like you would expect from a cheesecake or lemon meringue pie.
I have to confess that it does substantially replicate the actual dessert pie I had tried.
In the words of yoda, 'impressed I was.'
HOW MUCH DOES KIKONGA KEY LIME PIE BY KING KONG VAPE COST?
As previously mentioned this eliquid come in a 70vg/30pg ratio, so the flavour is carried well and hits smoothly even with nicotine added, which I vaped at 3MG using freebase nicotine.
King Kong Vape Juice currently sell a 50ml bottle (with room to add a 10ml nicotine shot).
The total came to £11.99 in the UK with Nic Salt included.
Unlike many other suppliers I have bought from, when you add a product to your basket, King Kong Vape Juice add a NIC SALT shot is automatically free of charge, which is a bonus since it saves you spending more money getting the nicotine!
You do have the option to remove the nic salt from your basket if you prefer to vape nicotine-free, but if you do opt to take the nic salt, just mix it with your bottle when it arrives and it will make up 3mg of e-juice.
Currently at the time of writing they are offering FREE 48hour shipping.
King Kong also provide a deal in which if you decided you wanted to purchase their entire range of desserts then it will only cost you £45.00 instead of £59.95 if you were to purchase individually, saving you almost £15.00.
WILL I BUY MORE KIKONGA KEY LIME PIE?
So that gets me to the big question, would I buy more of this e-liquid based on all the above and my own personal flavour preferences?
Well, the answer is a resounding yes.
It has replicated my experience of the official dessert I tried extremely well.
I am impressed with how well its layered, how the flavour improves the more your vape, but remember this is all subjective, this is my opinion and my review of this product, one that I have enjoyed so far.
Not everyone will have this same experience since we all like different types of flavours, undertones etc. So just keep this in mind.
Me, personally, I will be buying more and I will be recommending this product to anyone that is thinking about trying it.
If this is the first time you have heard of this product then I hope my experiences will entice you to try something new.
You might just find your all day vape if you haven't already.
Enjoy!
WHERE CAN I BUY KIKONGA KEY LIME PIE E-LIQUID BY KING KONG VAPE JUICE?
KIKONGA Key Lime Pie is available to purchase on King Kong's website:
Note that this is NOT an affilaite link. At the time of writing this review E-Cigs Advice does not have a relationship with King Kong Vape Juice and this review is NOT a paid promotion.
We just like to share the good stuff when we come across it, even if it doesn't benefit us financially.
I hope you enjoy it as much as I am!