Intro
If you've been to a local shop in the UK looking for a disposable vape, you may have come across Fabstix.
I hadn't heard of them until recently when I needed to buy a disposable vape after dropping my MOD and breaking my tank.
Fabstix claim to be the only disposable vape with airflow. I did have a look online to see if there are any other disposables with airflow contorl and as of today's date I couldn't find any.
Does their USP, the airflow, make them better to vape? Or is the 'Fab' just a 'Fad'?
Let's dive in and take a closer look to determine whether or not the Fab is really different to the hundreds of disposables already on the market…
Fabstix Packaging & Design
The Fabstix packaging is pretty standard. They come in a small box and are sealed in a small plastic packaging to help maintain freshness.
The top and bottom of the device is covered with small pieces of rubber (protective caps) keeping them well-sealed before you start vaping.
The device itself is a thin, cylinder shape and is easy to hold and carry in your pocket. They have a little weight to them and seem to be made of a hard plastic and and they feel nice and solid in the hand.
The mouthpiece indents on both sides and has a very similar feel to holding a whistle in your mouth.
On the outer packaging, it clearly states that the product is made in China. I like that it has the recycling symbol meaning that it has recyclable materials – something that not all disposables feature.
I always try to avoid using any disposable vaping devices that are non-recyclable since they would accumulate a lot of waste based on how quickly people can go through them.
Fabstix Specs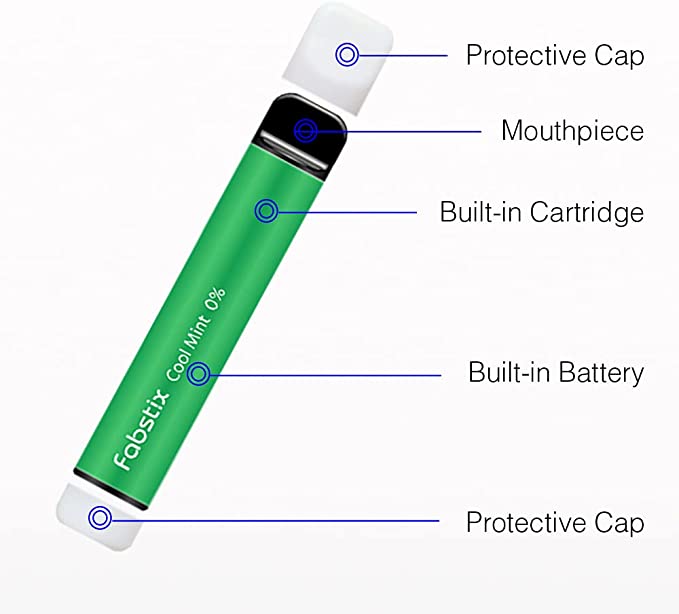 With a 500mAh battery capacity, the Fabstix boasts up to 600 puffs, which has become pretty standard among most disposables.
The airflow control allows you to refine your mouth-to-lung (MTL) vaping experience and the draw is very restrictive and can be compared to the likes of smoking an real cigarette, which is going to be a pro for a lot of you.
I have to admit that I don't notice much difference when the airflow is open and closed. The draw feels about the same to me.
This will be noted as a small con simply based on my experience, but the truth of the matter is that the airflow isn't something I care for since the restrictive MTL vape already functions how I would like it to – and it feels good both opened and closed.
These Fabstix have a nice, sleek design. They're small, discreet and really easy to fit in your front pocket or small purse.
They come pre-filled with 2ml of TPD compliant juice and there's no fire button – you just take it out of the packaging and vape.
They are non-refillable so when the e-liquid or battery runs out, be sure to dispose of them as per the instructions on the outer packaging.
How Many Flavours and Are They Any Good?
Fabstix currently have 12 flavours, which at the time of writing this review include:
Banana Ice
Blueberry Ice
Blueberry Sour Raspberry (quite a long-winded name!)
Cola
Cool Mint
Double Apple
Lychee Ice
Orange Vanilla
Pink Lemonade
Strawberry Ice Cream
Strawberry Mango
Watermelon Ice
I have only tried two flavours: Pink Lemonade and Blueberry Sour Raspberry – and I really liked them both.
The blueberry sour raspberry was my favourite of the two, but there wasn't a lot in it. You could taste the blueberry raspberry mix, but I didn't taste any sour notes. I don't think anyone would notice if they removed the 'sour' from the name.
The Pink Lemonade had a nice balance of flavour, and the lemonade was very prominent, which I enjoyed.
While I didn't count the number of puffs I got, what I can say is that they did last me over 24 hours, and I vape quite regularly.
If you vape regularly then you should get a full day of vaping based on my experience. If you vape low to moderately, you may be able to squeeze 2 or even 3 days out of one depending on how frequently you vape.
Where Can You Buy Fabstix and How Much Do They Cost?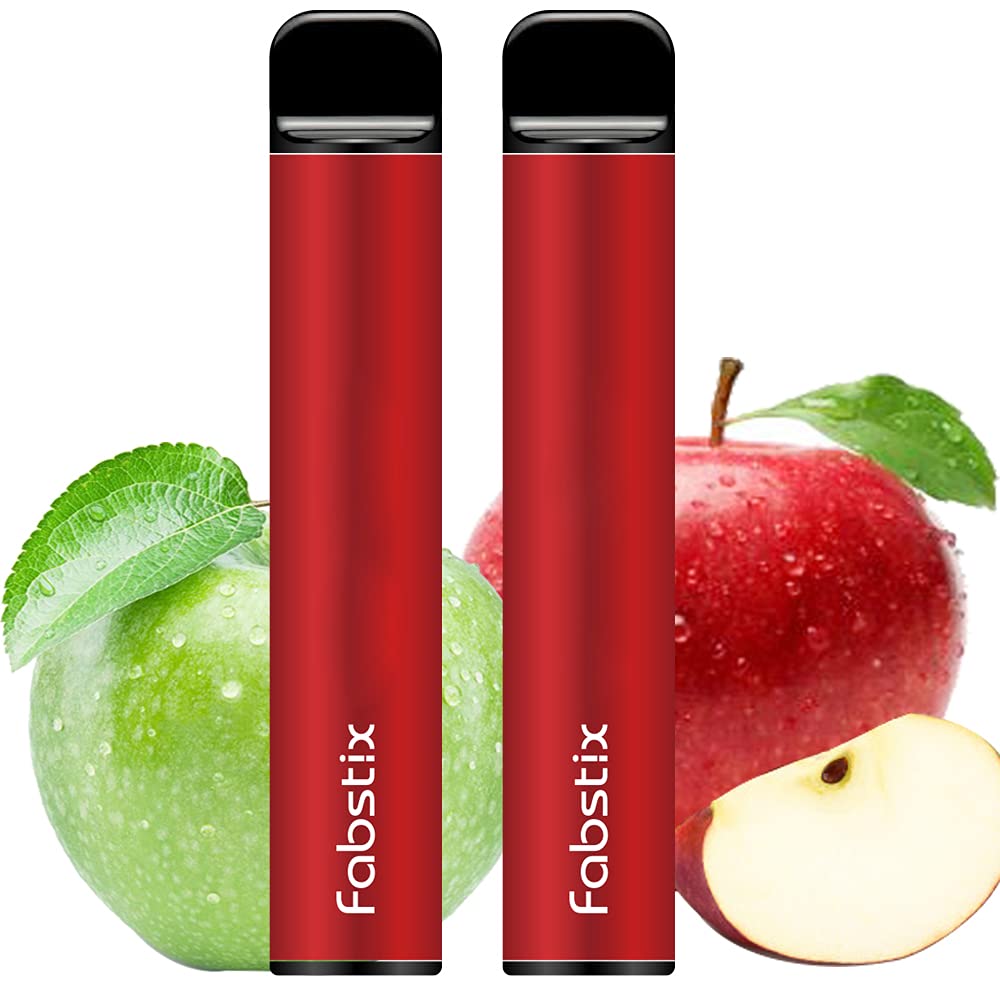 You can buy Fabstix online or in certain shops.
I'm not quite sure of all the shops they're available in, but I got mine at a local co-op and they cost me £5.99 each.
They are sold on Fabstix's website and currently retail there at £5.99 each. They offer free postage on every order so you could literally order one and not pay a penny for postage.
On Amazon you can currently get 4 for as low as £14.99 (this may change depending on when you read this review), which makes them around £3.75 each.
They're also sold on various online vape stores like Vapour where you can buy them for £5.99 each or get 3 for £15, making them £5.00. If you buy 3 from Vapour, they do offer free postage and packaging.
Are Fabstix Worth the Money?
I think the answer to this question depends on how you use them.
For me, they're not budget friendly. But that's because I vape a lot.
The Fabstix lasted me around 24 hours, so I'd be looking at buying one a day if I was to vape these regularly.
This would cost me about £42 a week if I bought one a day at around £5.99 or approximately £168 a month, which would be a ridiculous expense and around triple the cost of what I spend vaping my mods or pods.
I personally wouldn't want to be buying them daily at even £3.75 per device because it's still an expensive habit to me at that cost.
Vape pods and mods are a much less expensive way to vape since you can buy bottles of e-liquid for an equivalent amount and they can last 2 to 3 times as long, if not longer.
If you vape moderately and you can get a few days out of one, then I think they could be worth it since you'll only need 2 to 3 a week, but even then I think you could find less expensive options to vape.
I guess you're really paying for the ease and convenience, so they do have their place.
Pros
Excellent flavour that lasts
Lots of flavour options
Long-lasting battery
Size – ergonomic and fits easily in small pockets
Recyclable materials
Cons
Can be expensive if used daily
Colours make them attractive to teens and children
Open and closed airflow doesn't feel much different to me, which is their USP
Conclusion
Overall, the Fabstix is a pretty solid device. It's well-built, recyclable and has a really nice restrictive MTL vape – all of which are major pros for me.
The airflow may not feel different to me whether it's open or closed, but if I'm honest, when it comes to vaping MTL, airflow isn't something I care.
I do appreciate some of you may want the option to have a less restrictive vape with an open airflow, and if that's something you'd like then I'm afraid that you be disappointed here. I just could not notice much difference at all.
Having said this, this Fabstix is up there with one of the best disposables I've tried so far due to its long-lasting flavour and I would recommend these to anyone looking for a decent disposable vaping device.